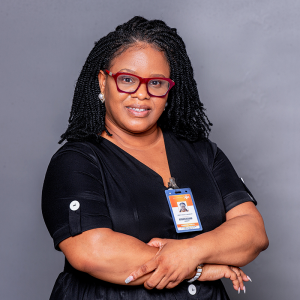 Theodora Enyonam Obobi Botchway serves as a Health Service Administrator and Human Resource Manager at Pleasant Medical Centre (PMC). In this role, she is responsible for the smooth running of health administration and support services and contributes to effective financial management. In addition, she leads the efforts to attract and develop the talent required to achieve the PMC vision while ensuring effective and efficient human resource management practices in the organization.
She brings aboard extensive human resource management and customer service experiences from Global Talent Masters Limited (GTM). At GTM, she supported the recruitment, training and HR consultancy services provided to local and international clients across multiple verticals.? Prior to GTM, Theodora served as a Monitoring, Evaluation and Learning Officer at Fairtrade Africa and the Kofi Annan International Peacekeeping Training Centre.
She is a graduate of the University of Ghana Business School where she received a BSc in Administration in Banking & Finance, and an MBA in Public Administration. She also has a certificate of membership as a Licentiate member of the institute of IMIS (2000), a certificate in Monitoring and Evaluation for Results with IMA International UK (2013), and another certificate in Monitoring and Evaluation at GIMPA (2012).
Currently she is pursuing an HR professional course at the Human Resource Certification Institute (HRCI).
She is married with 2 children, Emmanuel and Kathleen. Her hobbies include cooking, travelling, youth counselling, watching detective movies, and reading. She is fluent in Twi, Ewe, and Ga.
Her favorite quote is "A journey of a thousand miles begins with a step"